Intensive Driving Courses in Rushden
Free Re-test with courses over 30 Hours
We know all of the test routes in your area
Free Online Videos
And More...
About our Intensive Courses
Swift Drive  offer intensive courses to learn how to drive in Rushden. We specialise in offering last minute intensive lessons for individuals with last minute test bookings.
With many instructors offering different teaching styles, you can be assured you will be supplied a  fully qualified instructor who will understand your learning style and adapt their teaching to suit you.
Now that everyone else has turned you away as your test is too soon give us a and see what we can do for you!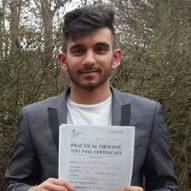 "
Swift were fantastic, I got real quality tuition to help me pass first time with only 4 minors. I really cant thank them enough.
"
Aaron Khamb

"
I'm so glad I came across Swift, every place I called just said they couldn't help, but the team at Swift know how important it is to people. They treated me like a real person and not just a robot on the other end of the telephone and I hope by taking the time to write this review shows how great they are.
"
Zahim Qasim
Swift Drive Rushden, 119 High St Rushden NN10 0NZ

Monday-Friday: 7am-9pm
Saturday: 7am-8pm
Sunday: 7am-6pm