Intensive Driving Courses in Ware
Free Re-test with courses over 30 Hours
We know all of the test routes in your area
Free Online Videos
And More...
About our Intensive Courses
The Swift Drive instructors in Ware are some of the best in the business. You can be assured that you'll receive top notch tuition to help guide you through your practical test with ease. Our speciality here at Swift is offering intensive courses and short notice tests and we're that confident that if you take a 30 or more hour course with us if you fail we'll pay for your second test!
On average, our pupils in Ware take 28 hours and pass their practical test first time. Compare that to the national average of 47 hours with 22 hours of private tuition, and you can see why Swift Drive is the right school for you.
Saving you time and money, with top notch tuition call us today to find out how we can help you.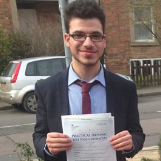 "
At first my friends couldn't understand why I was paying the higher prices to learn with Swift but then when I passed in less than 50% of the lessons they had things started to come together in their heads. After the saw what Swift had done for me they couldn't have changed driving school to Swift any quicker!
"
Omar Gamgoum

"
I really couldn't believe it when my instructor told me at the last second that he had booked a holiday the week of my test. He said "oh it'll be fine just push it back and we'll do it when I get back"... After telling him numerous times that I had to pass this test as I was going to university. I knew I was test ready and Swift were the only company to give me the time of day... I had a few hours just to get used to the car and then I passed my test with 4 minors!
"
Emma Fowler
Swift Drive Ware, 74 High St Ware SG12 9AT

Monday-Friday: 7am-9pm
Saturday: 7am-8pm
Sunday: 7am-6pm