Intensive Driving Courses in Watford
Free Re-test with courses over 30 Hours
We know all of the test routes in your area
Free Online Videos
And More...
About our Intensive Courses
Do you want to pass fast? Then Swift Drive providing intensive driving lessons in Watford is the right company for YOU! Between our team of fully qualified instructors they have numerous years experience teaching in the Watford area.
We don't mess about teaching you for months on end, we just get the job done as we know that all people want is to get on the roads as soon as possible…
Pupils with no previous experience took around just 30 hours to pass from scratch with us in Watford, which is remarkably below the national average of 47 hours with 22 hours on top, of private practise. If this doesn't convince you to come aboard with Swift we do not know what will! Give us a call today and see how much time and money you will save with us in the long run!

"
Where shall I start? Everywhere I called was at least a 6 week wait for an intensive course in Watford but I was going back to uni in 4 weeks and I'd managed to find myself a test cancellation for 3 weeks away. I found Swift and blasted through 30 hours with my instructor and it was a really reassuring feeling that even if I did fail Swift would pay for my second test. I think that gave me more confidence on the day as I didn't have to worry about the money that I'd lost if I failed. It was a pass for me so no complaints here! Thanks Swift I genuinely would recommend them to anyone!
"
Nadine Broughton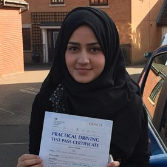 "
Every lesson I had with my old instructor he chipped away at my confidence. I started off so excited to learn to drive and after only 3 months the instructor had turned me into a nervous wreck! Anytime I did anything slightly wrong he would shout at me and I knew I had to make a change as my test was coming up. I came to Swift as no one else would bother to hear me out and what a great decision it was. Come test day my confidence was back and I felt like I had breezed through it! The examiner thought so too as I only got 2 minors...
"
Hira Ullah
Swift Drive Watford, 114B High St Watford WD17 2BJ

Monday-Friday: 7am-9pm
Saturday: 7am-8pm
Sunday: 7am-6pm