Intensive Driving Courses in York
Free Re-test with courses over 30 Hours
We know all of the test routes in your area
Free Online Videos
And More...
About our Intensive Courses
Here at Swift Drive we have been providing intensive driving lessons in York for years. We are now also specialising in cover last minute tests for people who just want to get passed as soon as possible. You can be assured we know what we are doing and you will go in to your practical test knowing you've had tuition with one of York's best instructors.
If you haven't passed your theory test yet, but want to pass fast, do not worry! We offer intensive driving courses in York that include the theory training and test. So visit our course options for more information or give one of our expert booking advisors a call so discuss which course is most suited to you!

"
I had to pass my test quickly as I was heading off to university in just over a months time. Swift were the only company who listened to what I needed and actually tried to help me. I had already passed the theory test during the previous year but didn't want to commit any time to learning to drive as I wanted to focus of my A-Levels. I found a cancellation test for 3 weeks time and booked in for 25 hours with Swift leaving a bit of time incase I needed a few extra lessons at the end. I'm excited to say that I only needed the 25 hours and I passed my test with barely any minor faults. Swift you were amazing! Thank you!
"
Kyle Page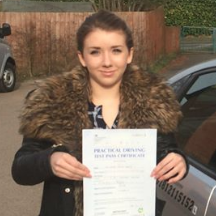 "
After coming to Swift I can't believe I put up with my other instructor for so long. He'd always cancel my lessons at short notice and I'd have to wait 1-2 weeks for another lesson. It just wasn't professional... Swift on the other hand I really can't fault, the instructor never cancelled on me and he always delivered really enjoyable lessons. He was really patient and understanding and if I didn't quite understand something the first time he would explain it in a different way to try and help me. Excellent company that I would recommend to anyone.
"
Kirsty Reading
Swift Drive York, 1 Coney Street, York YO1 9ND

Monday-Friday: 7am-9pm
Saturday: 7am-8pm
Sunday: 7am-6pm